Here is an Identified Error! Lately several identical dining rooms mostly claiming they were by Maxime Old were auctioned on both sides of the Atlantic:
Artcurial, Millon, Kreutzer, French Art Deco Furniture …

A private person and professionals still own some and ask us to authenticate them.

The main piece responsible for these attributions is the sideboard with a three doors row, because it appears in page 87 of the book Maxime Old Architect Decorator.
Maxime Old was not usually multiplying samples of such a suite of furniture, their number therefore draws our attention.
We search his quite complete collection of documents but we don't find the table, the chairs nor the sideboard. The picture of the sideboard in the book is the only link.
We share the questions we have with Yves Badetz, author of the Maxime Old book. Yves, a rigorous professional, is not sure. Exceptionally he has not been able to confirm the sources of the picture released by professionals to the editor.
We examine from all sides what professionals have said about this case. No new elements by any of them. None but French-Art-Deco who is presenting a genesis (History) of that piece of furniture.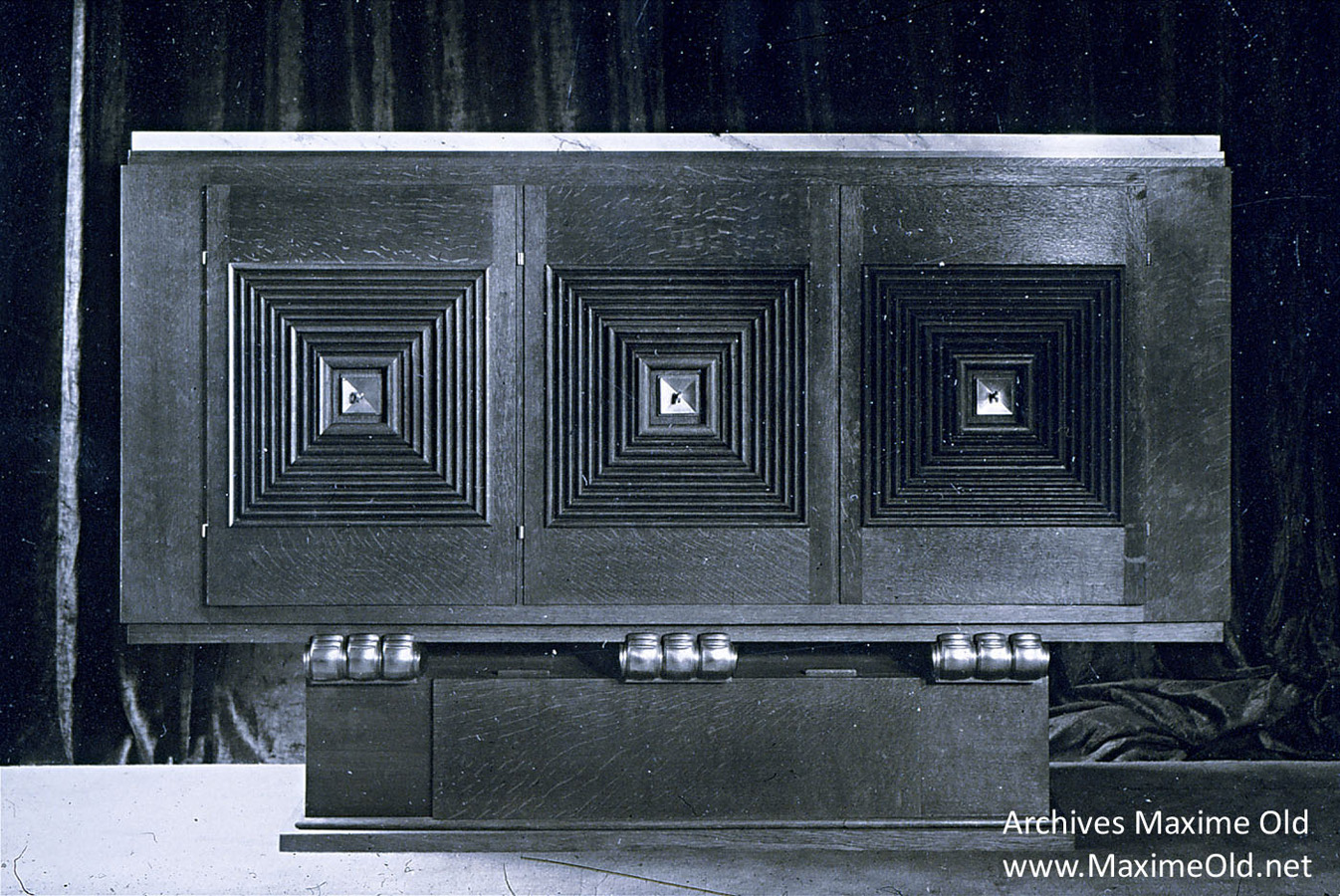 His explanation is disturbing, it relies on a well kept secret: in 1931 Maxime Old designed for Ruhlmann the silverware dresser ref 2135 named Geoffroy. Confidental data, that we confirm and which illustrates the impressive documentary work of the French Art Déco Gallery.
But it seems impossible for Maxime Old, after appropriating that model, to make it dull and realized it in multiple copies and variations.
Going on we compare the dining room table and the closest Maxime Old model and we reach the same conclusion: the general idea is taken but the copy is interpreted without the subtleties that give its personality.
Our searches are converging: a furniture maker has designed his own models realized in multiple copies and variations, without any connection with Maxime Old, but "inspired" by him or E.J. Ruhlmann. We have not yet identified that maker who is likely located somewhere between Lyon and Marseille.
An other interresting lead is the GP "Gauthier-Poinsignon" factory in Nancy until 1930 and in Toul after. Mr. Camille Gauthier, cabinetmaker in Nancy and team-leader for Louis Majorelle. Mr.Gauthier with Majorelle, Prouvé and Gruber, founded the Nancy school. GP also stands for "Gaston Poisson" in the 60s, reason to often mixed them up.
The misunderstanding between professionals is lifted: Identified error! That sideboard, its variations (two and three doors, …), the table and the chairs may only be presented as "in the style (taste?) of Maxime Old" which means loosely inspired by him.
Let us mention the book Maxime Old Architecte Décorateur has just been re-edited. In this 2016 new edition enriched, the erroneous page 87 is corrected. We study an eBook version in English, one aim is to clarifiy attribution. The excellent site Docantic is the reference for original documentations on medern art furniture XX century. Moreover, it fights against attribution errors and in particular the one related in this post.
The purpose of this article is to share with you the path, one of our expertises has followed and its conclusion. Opposite cases happen when we find pieces whose author has been lost, great moments